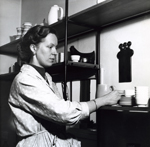 The ceramic artist Kaarina Aho (1925–1990) was born into a culturally prominent family: her grandfather was the national writer Juhani Aho and her grandmother the artist Venny Soldan-Brofeldt. Kaarina Aho studied at the School of Art and Design, and in 1946, landed her first job as Kaj Franck's assistant in the product development department of the Arabia ceramics company. At Arabia, Aho became a multitalented professional, as a member of Franck's working group for over a decade.
The best known examples of Aho's serial production include the ceramic Harlekiini flower vases and the Palapeli dish set. From 1962 onwards, Aho worked in her own ceramic studio and showcased unique utility articles, glazed in gorgeous colours, in her exhibitions.
Grants from the Kaarina Aho fund are distributed to Ornamo's ceramic artists.
References: Arabia (Designmuseo), Kaj & Franck – Esineitä ja lähikuvia (Päivi Jantunen)