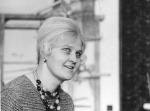 The textile artist Mirja Tissari was an active and multitalented woman – she was just as comfortable designing woven as printed fabrics, practised embroidery, and worked as a freelance journalist and teacher. In 1957, she graduated from the School of Art and Design, after which she worked for Finlayson-Fossa Oy, Barker-Littoinen Oy and the weaving factory Vantaan kutomo.
From the 1980s onwards, Tissari dedicated herself to free artistic work, creating impressive works of textile art. She is particularly renowned for her double weaves, which have been showcased both in Finland and abroad. In 1985, Tissari was granted the state industrial art award (valtion taideteollisuuspalkinto).
Grants from the Mirja Tissari fund are awarded in support of the artistic work of members of the non-profit association of textile artists Tekstiilitaiteilijat TEXO ry.
Reference: Mirja Tissari's obituary in the Ornamo magazine, written by Päikki Priha.