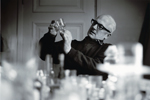 The designer Kaj Franck was a pioneer and key figure in Finnish design.
Franck's design competence was incredibly extensive: although his works mainly consist of ceramics and glassware, he also designed print fabrics, wooden toys, cutlery, and the stone garden of the Ministry of Education, as just a few examples. Franck was involved in the work of Ornamo for more than fifteen years. He was vice-chair of the board for seven terms (1946–49 and 1959–61), while Arttu Brummer, Olli Borg and Ilmari Tapiovaara chaired the board.
Kaj Franck was born in Vyborg to a German and Finnish-Swede family, moved at a young age to Kulosaari in Helsinki with his family, and studied furniture design at the Central School of Industrial Design in Helsinki. Franck worked as a designer and artistic director of the Arabia ceramics factory and the Nuutajärvi glass factory, and as a senior teacher and the artistic director of the School of Art and Design. For years, he divided his time between the "glass village" at Nuutajärvi and his wooden house home in the Käpylä district of Helsinki. Despite his success, Franck valued equal teamwork in design, so much so, that he suggested that the legendary Teema series be named Tiimi, as in "Team". In Kaj Franck, the image of the uncompromising master designer is combined with his uncomplicated, boyish appearance, such as his plaid flannel shirts, which became his designer uniform. The Kaj Franck fund provides grants for designers.
References: Kaj Franck – Universaaleja muotoja (Designmuseo), Kaj & Franck – Esineitä ja lähikuvia (Päivi Jantunen), list of Ornamo boards 1911–2011.